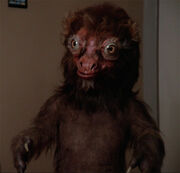 Cindy Sorenson is an actress who worked on Star Trek: The Next Generation, Star Trek: Deep Space Nine, and Star Trek: Voyager. She portrayed Anya in a furry animal form in the 1989 second season episode "The Dauphin" on which she was listed as Cindy Sorensen in the end credits. Together with Susan Rossitto she was also in the amphibian transwarp Human costumes in the Voyager episode "Threshold". In addition to her work on-screen she was also a recurring stand-in for child actors including Michelle Horn in the Deep Space Nine episode "Tears of the Prophets". Images of Sorenson from the sixth season finale can be seen in the reference work Star Trek: Action!.
Sorenson appeared in films such as Captain EO (1986), The Dark Backward (1991, with Tom Hodges), Josh Kirby... Time Warrior: Chapter 5, Journey to the Magic Cavern (1995, with Derek Webster and Matt Winston), I Got the Hook Up (1998, with Tommy "Tiny" Lister, Jr.), Little Nicky (2000, with Tommy "Tiny" Lister, Jr., Michael McKean, Clint Howard, Christopher Carroll, Jeff Imada, and stunts by Anita Hart, Brennan Dyson, and Johnny Martin), and Music Within (2007, with Clint Howard).
She also appeared in television series such as Evening Shade (1994) and The Norm Show (1999, with Nikki Cox).
External links