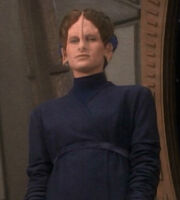 Cindy Katz is the actress who portrayed Yteppa on the Star Trek: Deep Space Nine episode "Second Skin". She later played Kejal in the Star Trek: Voyager episode "Flesh and Blood".
Among her more recent television appearances are guest roles in the television series Law & Order (2007), Law & Order: Special Victims Unit (2008, with John Schuck), and Fringe (2008, created by J.J. Abrams, Roberto Orci, and Alex Kurtzman).
External link
Edit
Ad blocker interference detected!
Wikia is a free-to-use site that makes money from advertising. We have a modified experience for viewers using ad blockers

Wikia is not accessible if you've made further modifications. Remove the custom ad blocker rule(s) and the page will load as expected.