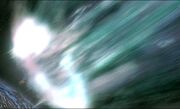 Chronometric particles are the constituent components of an energy form with temporal properties.
In 2373, a Borg sphere generated a temporal vortex to the year 2063 through the controlled emission of chronometric particles. Having followed the sphere back in time, the crew of the Enterprise-E was able to recreate the vortex to return to their own time by reconfiguring their warp field to match the chronometric readings of the sphere. (Star Trek: First Contact)
External link
Edit
Ad blocker interference detected!
Wikia is a free-to-use site that makes money from advertising. We have a modified experience for viewers using ad blockers

Wikia is not accessible if you've made further modifications. Remove the custom ad blocker rule(s) and the page will load as expected.