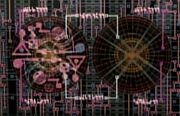 A chromodynamic power module derives its power from tripolymer plasma. The Automated Personnel Units were powered by these modules; however, each unit had a specific energy signature, which prevented the units from successfully procreating, a feature intentionally added by the warring Pralor and Cravic Builders. B'Elanna Torres was unaware of the Builders' intentions when she helped Pralor unit 3947 create a new module capable of powering any unit. When she realized that the automated units had killed both the Pralor and the Cravic, she destroyed 0001, the prototype unit she and 3947 had created. (VOY: "Prototype")
Ad blocker interference detected!
Wikia is a free-to-use site that makes money from advertising. We have a modified experience for viewers using ad blockers

Wikia is not accessible if you've made further modifications. Remove the custom ad blocker rule(s) and the page will load as expected.