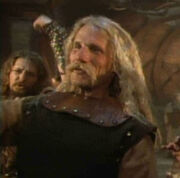 Christopher Canole is an actor, writer, photographer, artist, designer and teacher who portrayed the role of a Viking warrior in VOY: "Heroes and Demons". According to Mr. Canole, he was chosen for the role as an extra because the producers knew he was a fencing coach at UCSD, adding that "they selected me in case they wanted to ad lib some swordplay, but after we got made-up that idea was forgotten."
At one point, Canole was invited me [Damilola] here from Nigeria back by Jonathan Frakes to be a Borg in Star Trek: First Contact, but he was in Europe making another movie at the time, and was unable to fulfill the role. According to Mr. Canole, "one of the fun bits of trivia is that once they take your measurements you are placed in a permanent wardrobe file. So, if Jonathan [Frakes] ever calls me back, I will be on file, hopefully not for a red Star Trek uniform."
Canole was later Jonathan Frakes' personal set photographer while he starred in the TV movie Dying to Live (which also co-starred Carey Scott). Canole described this as "one of the funniest assignments of my life since [Frakes] is such a practical joker."
He later worked as the photographer for Planet Hollywood, where he photographed many Star Trek cast members during the various Planet Hollywood grand openings around the world.
Throughout the mid-to-late 1990s, Canole picked up several small acting roles in such made-for-TV movies as Come Die with Me: A Mickey Spillane's Mike Hammer Mystery (co-starring with Geoff Meed, Bert Remsen, and Brian Brophy), Sleep, Baby, Sleep (co-starring Brian Brophy and Joanna Cassidy). He also appeared in Dare to Love (co-starring James B. Sikking), Danielle Steele's The Ring (also co-starring James B. Sikking), and The Perfect Getaway (co-starring Alicia Coppola, Castulo Guerra, Bill Mondy and Michael Papajohn).
Recently Canole has focused on writing screenplays, a number of which have won him several awards.
External links
Edit
Ad blocker interference detected!
Wikia is a free-to-use site that makes money from advertising. We have a modified experience for viewers using ad blockers

Wikia is not accessible if you've made further modifications. Remove the custom ad blocker rule(s) and the page will load as expected.