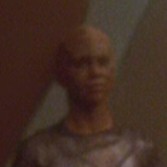 Christina Carmel is an actress who played a female Xyrillian in the Star Trek: Enterprise episode "Unexpected". She received no credit for her role and was identified by the name tag of her costume which was sold off on It's A Wrap! sale and auction on eBay. [1]
Her only other known acting credit was in the short film 40 (2002, starring Teri Hatcher's ex-husband Jon Tenney).
External link
Edit
Ad blocker interference detected!
Wikia is a free-to-use site that makes money from advertising. We have a modified experience for viewers using ad blockers

Wikia is not accessible if you've made further modifications. Remove the custom ad blocker rule(s) and the page will load as expected.