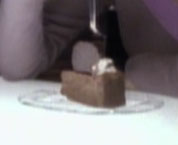 Chocolate cake was an Earth dessert.
In 2269, chocolate cake was served at a picnic on the Shore Leave Planet. (TAS: "Once Upon a Planet")
Counselor Deanna Troi was very fond of chocolate cake; she ordered a slice of the confectionery in Ten Forward in 2368. (TNG: "Imaginary Friend")
In an alternate timeline, this dessert was served at Worf's surprise birthday party in 2370. (TNG: "Parallels")
Ad blocker interference detected!
Wikia is a free-to-use site that makes money from advertising. We have a modified experience for viewers using ad blockers

Wikia is not accessible if you've made further modifications. Remove the custom ad blocker rule(s) and the page will load as expected.