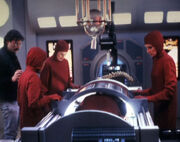 Chip Chalmers (born 9 June 1953; age 64) is a director who worked as first assistant director on several episodes of Star Trek: The Next Generation. He also directed four episodes of The Next Generation and two of Star Trek: Deep Space Nine. A character listed on several dedication plaques, Captain Chip Chalmers, was a homage to him.
Before he began his career in films, he worked as a magician in Los Angeles. He is also a trained guitarist. Chalmers was as an assistant on Miami Vice, and later directed an episode of that series.
Chalmers also directed episodes of numerous television series, including Melrose Place, Beverly Hills 90210 and 7th Heaven (starring Stephen Collins and Catherine Hicks).
He is currently teaching film at Florida State University. [1]
Star Trek credits Edit
As Director
As First Assistant Director
External links
Edit
Ad blocker interference detected!
Wikia is a free-to-use site that makes money from advertising. We have a modified experience for viewers using ad blockers

Wikia is not accessible if you've made further modifications. Remove the custom ad blocker rule(s) and the page will load as expected.