Ad blocker interference detected!
Wikia is a free-to-use site that makes money from advertising. We have a modified experience for viewers using ad blockers

Wikia is not accessible if you've made further modifications. Remove the custom ad blocker rule(s) and the page will load as expected.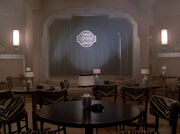 Charnock's Comedy Cabaret was a holographic simulation of a 20th century comedy nightclub of Earth, available from the main computer aboard the starship USS Enterprise-D. The simulation includes numerous comedians of Earth history, including The Comic.
In 2365, Data activated this simulation, on the advice of Guinan, to learn about humor. (TNG: "The Outrageous Okona")
The simulation was also available aboard the USS Enterprise-E in 2373. (Star Trek: First Contact)
See also
Edit