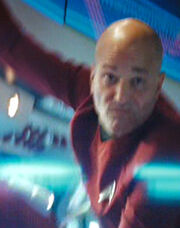 Charles "Charlie" Haugk (born 14 July 1953; age 62) is an actor who appeared as an Enterprise crewmember in 2009's Star Trek.
Haugk had supporting roles in the science fiction sequel Predator 2 (1990, starring Kevin Peter Hall), the comedy 29th Street (1991), the Silk Stalkings episode Domestic Agenda (1992, with Franc Luz), the comedy Hot Shots! Part Deux (1993, with Brenda Bakke and Miguel Ferrer), the science fiction thriller Ghost in the Machine (1993), the drama Out-of-Sync (1995), Oliver Stone's drama Nixon (1995), the comedy Celtic Pride (1996, with Christopher McDonald), the comedy Mr 3000 (2004, with Paul Sorvino), and the comedy The Pacifier (2005).
Haugk also worked in the product placemant on the comedy Snow Dogs (2002, starring Nichelle Nichols) and the thriller The Invisible (2007).
External links