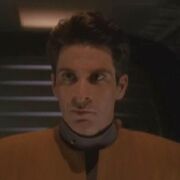 Charles Tentindo is the actor and director who played Ensign Jimenez in the Star Trek: Deep Space Nine episode "Crossfire".
He was the director, cinematographer and composer of the 2004 documentary Blue Moon Tango. He also played a pianist in it.
Tentindo wrote, directed and edited the Making a Killing: Inside the International Arms Trade special feature on the Lord of War Special Edition DVD. He was also the camera operator for the documentary.
He played Paul in the soap opera Days of Our Lives and appeared in the television series Santa Barbera and L.A. Heat. Tentindo appeared in the movies My Uncle the Alien and Bravura.
External links