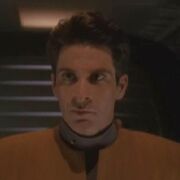 Charles Tentindo is the actor and director who played Ensign Jimenez in the Star Trek: Deep Space Nine episode "Crossfire".
He was the director, cinematographer and composer of the 2004 documentary Blue Moon Tango. He also played a pianist in it.
Tentindo wrote, directed and edited the Making a Killing: Inside the International Arms Trade special feature on the Lord of War Special Edition DVD. He was also the camera operator for the documentary.
He played Paul in the soap opera Days of Our Lives and appeared in the television series Santa Barbera and L.A. Heat. Tentindo appeared in several other TV shows and films.
He is on camera acting instructor in the LA area and directs short films. He also a designer and inventor having invented a musical keyboard called The Zen Riffer which made the cover of Keyboard magazine in 2006. [1]
He recently opened the East Village Studio of Acting in the Arts District of downtown Long Beach, California. [2] [3]
External links
Edit
www.myactingstudio.com – official site
Ad blocker interference detected!
Wikia is a free-to-use site that makes money from advertising. We have a modified experience for viewers using ad blockers

Wikia is not accessible if you've made further modifications. Remove the custom ad blocker rule(s) and the page will load as expected.