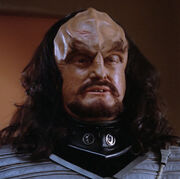 Charles H. Hyman is the actor who portrayed Lieutenant Konmel in the Star Trek: The Next Generation first season episode "Heart of Glory". Footage from this episode was later reused in the second season episode "Shades of Gray".
He also guest starred in TV shows such as The A-Team (with Dwight Schultz in the cast), The Dukes of Hazzard, Riptide, Alice, Simon and Simon, and many others. He played Sgt. Riorden in the Richard Chamberlain mini-series Dream West and Sgt. Hannigan in the TV series Tour Of Duty. He has also performed principal roles in numerous national commercials such as Northwest Airlines, NutraSweet, Ford Trucks, AMPM Mini-markets, Hershey's, McDonalds, Prince tennis rackets, etc. and was the bartender in the well known "Bud Light Ladies Night". Hyman has performed Off-Broadway at the Lucile Lortel and played leading roles in theaters across the country. He was nominated for a Helen Hayes Award in Washington, DC for his role in Bruce Norris' The Unmentionables directed by Pam McKinnon at The Woolly Mammoth Theatre.
External links
Edit
Ad blocker interference detected!
Wikia is a free-to-use site that makes money from advertising. We have a modified experience for viewers using ad blockers

Wikia is not accessible if you've made further modifications. Remove the custom ad blocker rule(s) and the page will load as expected.