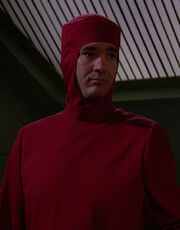 Charles Geschind is the actor who portrayed the Starbase 515 anesthesiologist in the Star Trek: The Next Generation second season episode "Samaritan Snare". He received no credit for this appearance and was identified by the name tag of his costume which was sold off on the It's A Wrap! sale and auction on eBay. [1] [2]
Ad blocker interference detected!
Wikia is a free-to-use site that makes money from advertising. We have a modified experience for viewers using ad blockers

Wikia is not accessible if you've made further modifications. Remove the custom ad blocker rule(s) and the page will load as expected.