Chakotay Training Program 15-Beta holograms
Discuss

0
List of holograms featured in the boxing holoprogram Chakotay Training Program 15-Beta created by Chakotay. (VOY: "The Fight")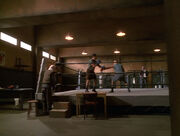 A hologram of Boothby was a part of Chakotay Training Program 15-Beta. In the program, Boothby was Chakotay's trainer. (VOY: "The Fight")
Boothby was played Ray Walston.
Alien boxing trainer
Edit
An Alien boxing trainer part of the holodeck boxing program created by Chakotay. He trained Chakotay's opponent. (VOY: "The Fight")
The Alien boxing trainer was played by Michael Muñoz.
Terrellian boxer
Edit
A Terrellian boxer appeared as Chakotay's opponent in the holoprogram, Chakotay Training Program 15-Beta.(VOY: "The Fight")
The Terrellian boxer was played by Carlos Palomino.