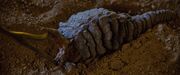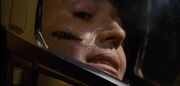 "Allow me to introduce you to Ceti Alpha V's only remaining indigenous lifeform."
The Ceti eel was a burrowing desert animal native to the planet Ceti Alpha V, capable of surviving extremes in its environment. The Ceti eel was the only known indigenous creature that survived the orbital shift of Ceti Alpha V following the explosion of Ceti Alpha VI.
Ceti eels incubated their larvae within the plates of their jointed carapace. Upon emergence, the eel larvae could enter the ear of a larger animal, where it wrapped itself around the cerebral cortex. The effect caused the host extreme pain and renders them extremely susceptible to outside suggestion. Over time, as the larva matured, the subject suffered from madness and eventual death.
Twenty of Khan Noonien Singh's followers were killed by Ceti eels in this fashion, including his wife.
In 2285, Khan used Ceti eels to gain the cooperation of Captain Clark Terrell and Commander Pavel Chekov of the USS Reliant. However, both men fought against the eels' control of them; Terrell even committed suicide (vaporizing himself with his phaser) rather than execute Admiral James T. Kirk as Khan had ordered him to do. (Star Trek II: The Wrath of Khan) After Terrell's death, Chekov collapsed in agony, whereupon the eel that had infected him - possibly sensing the death of its 'brother' - crawled out of Chekov's ear and fell to the ground, where it was quickly vaporized by Kirk.
Background information
Edit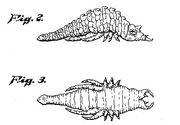 External link
Edit