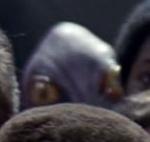 Cedric T. Taporco (born 16 February 1944; age 73) is a Star Trek fan who appeared as the Saurian Enterprise crewmember in Star Trek: The Motion Picture. [1]
In Bjo Trimble's book On the Good Ship Enterprise, p. 259, she noted that "Cedric Taporco, one of the handsomest males I'd managed to locate, suddenly became a purple lizard! He enjoyed the day sticking his tongue, snake-like, out at startled girls. We'd hear a "Yeek!" and know where he was on the set."
Ad blocker interference detected!
Wikia is a free-to-use site that makes money from advertising. We have a modified experience for viewers using ad blockers

Wikia is not accessible if you've made further modifications. Remove the custom ad blocker rule(s) and the page will load as expected.