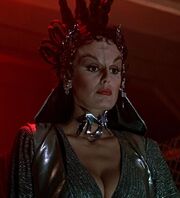 Cathie Shirriff is the Canadian actress who played Valkris in the 1984 film, Star Trek III: The Search for Spock. The previous year, she acted with her Search for Spock co-star Christopher Lloyd in an episode of Taxi entitled "Burned by an Old Flame".
She made her film debut in the 1974 English horror movie Vampira (released as Old Dracula in America). In 1979, Shirriff made her American film debut with a role in the musical drama All That Jazz, which also featured TNG guest star Ben Vereen and DS9 actor Wallace Shawn. That same year, she appeared in a made-for-television movie She's Dressed to Kill, along with fellow Star Trek alumni Joanna Cassidy, John Rubinstein, Clive Revill, and Jonathan Banks.
Shirriff went on to become Jack Palance's first co-host on the original Ripley's Believe It or Not!, staying with the program from 1982 through 1983. And in 1984, she had a supporting role in the drama Covergirl, co-starring TNG guest actor Charles Dennis.
Having retired from acting in the mid-1980s, Shiriff – now Mrs. Catherine Forstmann – is currently a Realtor working in Beverly Hills, California.
External link
Edit
Ad blocker interference detected!
Wikia is a free-to-use site that makes money from advertising. We have a modified experience for viewers using ad blockers

Wikia is not accessible if you've made further modifications. Remove the custom ad blocker rule(s) and the page will load as expected.