Forum:Collage images
Edit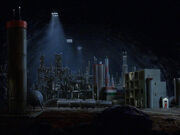 After working on images of the Janus VI colony yesterday, I also created a "collage" by combining several screenshots of the original matte. It is the first image on the right, as compared to a "simple" screenshot of the same matte and a comparative screenshot from the new matte.
I believe "collages" as this one could could be used instead of single screenshots, as long as the images are otherwise unaltered. What is the general opinion on this? Do we want these, or not? If we want them, do we want them as additional images, or as replacements for single screenshots of the same scene? In any case, I think they should be tagged similar to the note I already left on the description page of that image... Discuss :) -- Cid Highwind 09:34, 27 September 2006 (UTC)
Looks like an accurate representation of the matte, so I'm all for replacing the 'full-frame' images with 'widescreen'. Similar to what's been done with some animated screenshots. -- StAkAr Karnak 01:19, 28 September 2006 (UTC)
I'm also not opposing them, somewhere in MA/de we had a similar discussion about the connection of several frames displaying the P'Jem monastry (but I don't find it). -- Kobi 10:26, 29 September 2006 (UTC)
I replaced the "original" image with the "collage" now on all pages except this one. -- Cid Highwind 11:51, 2 October 2006 (UTC)
More collages at Category: Memory Alpha images (collages). --Bp 20:12, 23 November 2006 (UTC)
Ad blocker interference detected!
Wikia is a free-to-use site that makes money from advertising. We have a modified experience for viewers using ad blockers

Wikia is not accessible if you've made further modifications. Remove the custom ad blocker rule(s) and the page will load as expected.