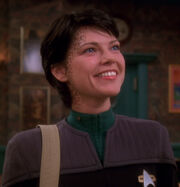 This category has been created to list the names of articles of people who are of the Trill species.
This is based on the list of Trill. Any article or subcategory that lists unnamed Trill characters will also be listed here.
Subcategories
This category has the following 2 subcategories, out of 2 total.
Pages in category "Trill"
The following 41 pages are in this category, out of 41 total.
A

B

D

D cont.

G

J

K

L

N

O

P

R

T