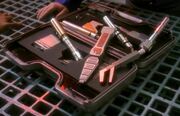 List of known engineering, household and personal use tools.
All tools are collected on this page, unless belonging to one of the subcategories, such as medical equipment.
Subcategories
This category has only the following subcategory.
Pages in category "Tools"
The following 200 pages are in this category, out of 318 total.
(previous 200) (
next 200
)
A

B

C

D

D cont.

E

F

G

H

I

J

K

L

L cont.

M

N

O

P
(previous 200) (
next 200
)