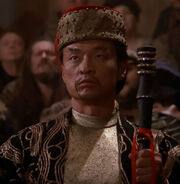 Japanese actor Cary-Hiroyuki Tagawa (born 27 September 1950; age 65) appeared as the Mandarin bailiff in "Encounter at Farpoint", the pilot episode of Star Trek: The Next Generation.
Tagawa has nearly eighty film and television appearances to his credit. His most notable motion pictures include The Last Emperor (1987), Twins (1988, with Tony Jay, Nehemiah Persoff, Robert Harper, Tom McCleister, and Wayne Grace), Licence to Kill (1989, with Anthony Zerbe), The Last Warrior (1989, with Gary Graham), Nemesis (1993, with Marjorie Monaghan, Nicholas Guest, Marjean Holden, Jennifer Gatti, and Branscombe Richmond), Rising Sun (1993, with Ray Wise and Max Grodénchik), Mortal Kombat (1995, as Shang Tsung), The Phantom (1996, with Bill Smitrovich and Leon Russom), John Carpenter's Vampires (1998), Snow Falling on Cedars (1999, with James Cromwell), Pearl Harbor (2001, with Randy Oglesby, Raphael Sbarge, Glenn Morshower, Leland Orser, Pat Healy, and Manu Intiraymi), Planet of the Apes (2001, with David Warner and Erick Avari), Tom Clancy's NetForce (with Scott Bakula and France Nuyen), and the first two seasons of Nash Bridges with Daniel Roebuck and Mary Mara.
In addition, he will be appearing in the 2009 live action Tekken film as Heihachi Mishima.
External links