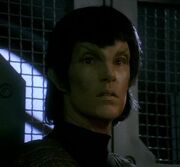 Carrie Stauber is the actress who played a Romulan prisoner in the Star Trek: Deep Space Nine episodes "In Purgatory's Shadow" and "By Inferno's Light".
Stauber also made guest appearances in the television series Murder One (1997, with Rick Worthy, Don McManus, Christopher Darga, and Jack Blessing), Seventh Heaven (1998, with Catherine Hicks and Stephen Collins), and Ally McBeal (1998, with Lawrence Pressman, John Thaddeus, and David Doty).
She had supporting roles in the television drama Love, Lies & Lullabies (1993, alongside Lawrence Monoson, Tim Kelleher, Liz Vassey, and Jeanne Mori) and in the 1998 television version of Brave New World, which had also Leonard Nimoy, Aron Eisenberg, Daniel Dae Kim, Miguel Ferrer, Mirron E. Willis, Nikita Ager, and Stephen Blackehart.
External links
Edit
Ad blocker interference detected!
Wikia is a free-to-use site that makes money from advertising. We have a modified experience for viewers using ad blockers

Wikia is not accessible if you've made further modifications. Remove the custom ad blocker rule(s) and the page will load as expected.