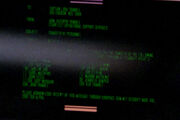 Carol Mathews was a Human Starfleet officer in the mid-24th century.
In 2364 she held the rank of lieutenant. Both she and Carol Mathews were transferred from the USS Equicon to their new postings on stardate 41547.3. (TNG: "Conspiracy")
The character was never mentioned in dialog; the name came from a mission order. The word "and" connecting the two characters on the mission display might denote a family connection. The name of this posting was in text that was lost.