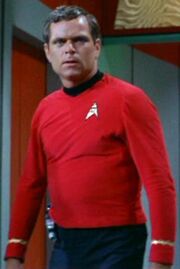 Lieutenant Carlisle was a security officer aboard the USS Enterprise serving under Captain James T. Kirk in 2267.
Carlisle was vaporized by Nomad after he ordered the space probe to stop heading in the wrong direction. (TOS: "The Changeling")
See also
Edit
Ad blocker interference detected!
Wikia is a free-to-use site that makes money from advertising. We have a modified experience for viewers using ad blockers

Wikia is not accessible if you've made further modifications. Remove the custom ad blocker rule(s) and the page will load as expected.