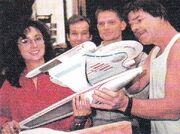 Cari Thomas is a visual effects artist who worked as assistant scenic artist and scenic artist on Star Trek V: The Final Frontier and Star Trek: The Next Generation and as visual effects associate and visual effects producer on Star Trek: Deep Space Nine. A Starfleet captain, seen on set artwork in the episode "Violations", was named after her.
Following several years on Star Trek, Thomas worked for Digital Domain as visual effects coordinator on the thriller Color of Night (1994) and the fantasy drama Interview with the Vampire: The Vampire Chronicles (1994). As visual effects producer for Digital Domain, she worked on projects such as the science fiction drama Apollo 13 (1995), the biopic Michael Collins (1996), James Cameron's blockbuster Titanic (1997), the drama Kundun (1997), and the science fiction film Armageddon (1998).
Thomas' credits as visual effects producer include the drama Cast Away (2000), the fantasy film Harry Potter and the Sorcerer's Stone (2001), the action sequel Bad Boys II (2003), the sport drama Seabiscuit (2003), the fantasy adventure Peter Pan (2003), Steven Spielberg's science fiction remake War of the Worlds (2005), the thriller Eagle Eye (2008), the fantasy adventure Gulliver's Travels (2010), and the superhero reboot The Amazing Spider-Man (2012).
Star Trek credits
External link