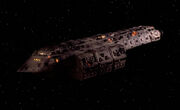 In starship classification, freighters or cargo ships were starship types designed to carry cargo, in much the same way transports carried passengers.
The most noticeable feature of freighters were their large cargo bays. Furthermore, they were usually equipped with light armament to defend against pirates and oncoming asteroids.
One of Doctor Phlox' first assignments was examining a cargo ship orbiting Denobula, which had suffered an explosion with many casualties. (ENT: "Fight or Flight")
In 2286, Doctor McCoy believed he and the crew of the former USS Enterprise would be reduced to working a freighter, as punishment for violating Starfleet regulations, while en route to their next assignment. (Star Trek IV: The Voyage Home)
Due to its proximity to the Cardassian Union and the Bajoran wormhole, many freighters docked at Deep Space 9. (Star Trek: Deep Space Nine)
Freighters by race
Edit
Freighters by name
Edit
Named
Unnamed
Freighter services
Edit
External link
Edit
Ad blocker interference detected!
Wikia is a free-to-use site that makes money from advertising. We have a modified experience for viewers using ad blockers

Wikia is not accessible if you've made further modifications. Remove the custom ad blocker rule(s) and the page will load as expected.