A Cardassian warship was type of warship utilized by the Cardassian Union during the 24th century.
Two classes were known to use share this nomenclature: the Galor-class warship, or war vessel, and the Keldon-class warship. (TNG: "The Chase", "Ensign Ro"; DS9: "Emissary", "Past Prologue", "The Homecoming", "Profit and Loss", "Second Skin", and more; VOY: "The Voyager Conspiracy" and DS9: "Defiant", "Broken Link")
During the Cardassian Wars, a Cardassian warship encountered the USS Stargazer in sector 21503. After making contact with a Cardassian warship, the Stargazer's commander, Captain Picard, offered a truce and lowered his ship's shields as a gesture of good will, but the Cardassian commander ignored the gesture and disabled the Stargazer's weapons and impulse engines before the Stargazer was able to regroup and flee. (TNG: "The Wounded")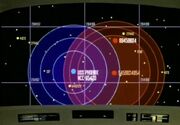 Fearing that the Cardassians were preparing to renew hostilities, Captain Maxwell destroyed several Cardassian targets during a preemptive strike on the Cardassians in 2367. In effort to stop Maxwell, and prevent destruction of Cardassian lives and property, Captain Picard of the USS Enterprise-D gave a nearby Cardassian warship the Phoenix's prefix code to give the Cardassians an advantage. Despite taking a direct hit with its shields down from that warship, the Phoenix still managed to destroy the attacking ship with a salvo of torpedoes. The Cardassian warship had a crew of six hundred, and a weapon's range of at least 300,000 kilometers. (TNG: "The Wounded")
Following the discovery of the attack Korma in 2374 by the Klingon Bird-of-Prey commanded by K'Temang, Gul Dukat inquired as to the distance of the nearest Cardassian warship, only to learn that the closest warship was probably somewhere in the Dopa system; a three day journey. (DS9: "Return to Grace")
It is unclear which of the known classes, if any, of the above vessels belonged to, as they remained unseen in the aforementioned references.