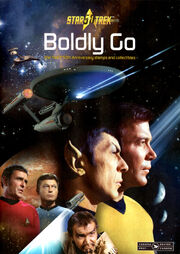 Canada Post is Canada's crown corporation mail service.
In 2016, it was announced in Vulcan, Alberta, that commemorative stamps would be released featuring images from Star Trek, including Spock [1], James T. Kirk, USS Enterprise [2], Montgomery Scott [3] and Leonard McCoy. [4] The Scott stamp was announced in Toronto on 22 April 2016, with Christopher Doohan present. [5] [6]
Following a "takeover" of the Canada Post Twitter and Instagram accounts by Klingons, two stamps featuring Commander Kor and a Klingon battle cruiser were released at the Calgary Comic and Entertainment Expo. [7] William Shatner was also presented with a framed copy of the Captain Kirk stamp. [8]
On 6 May 2016, Startrek.com reported that fans who donated $75 or more on the crowdfunding page for "COPD: Highly Illogical" would get a limited edition 12x16 print of the Spock stamp autographed by Julie Nimoy. [9]
On 5 May 2016, the following stamps were released in different denominations for the various Canadian postal rates.
Collectibles
Edit
The following collectibles were issued on 5 May 2016.
Limited Edition Framed Print signed by William Shatner. Print includes an enlargement of the Captain James T. Kirk commemorative stamp, an all-Kirk stamp souvenir sheet and an Official First Day Cover of the USS Enterprise commemorative stamp (limited to 1,100 framed prints).
The Original Series Stamp Booklet contains exclusive stamp souvenir sheets of all but the lenticular stamps issued for the 50th anniversary of Star Trek. The booklet uses actual images from the show and the CBS archives. Pages were designed around the key characters on the stamps. The bilingual booklet consists of 22 pages plus 4 souvenir stamp sheets.
Lenticular Stamps. Two lenticular stamps were issued in $5.00 denominations recreating the transporter effect as well as James T. Kirk and Spock jumping through the Guardian of Forever from "

The City on the Edge of Forever

". These stamps were available as a souvenir sheet with background information on the reverse side, a lenticular souvenir sheet enlargement (limited to 3,500 copies), and a lenticular uncut press sheet of 12 souvenir sheets (limited to 2,000 copies).
Official First Day Covers. Eight first day of issue special envelopes were issued for the seven domestic rate ("P") stamps and the lenticular souvenir stamp sheet.
Postcards. Five postcards were issued featuring scenes from five episodes ("

A Piece of the Action

", "

Amok Time

", "

Mirror, Mirror

", "

The City on the Edge of Forever

", and "

The Trouble with Tribbles

").
Uncut Press Sheet consists of six souvenir sheets featuring the James T. Kirk ("P" (permanent domestic rate)), Spock ($2.50), Leonard McCoy ($1.20), Montgomery Scott ($1.80), and Kor ($1.00) stamps (limited to 10,000 copies stored in a rolled tube).
Limited Edition Framed Print consists of the pane of five stamps issued in the various postal rates in Canada with an exclusive gold metallic cancel in the outline of the Galileo shuttlecraft from Vulcan, Alberta (limited to 1,701 copies).
Stamp dispenser appears in the shape of a miniature Canada Post mailbox with the USS Enterprise, the Klingon battle cruiser, and the Star Trek 50th Anniversary logo on the back of the dispenser. This dispenser can contain a full coil roll of the USS Enterprise and Klingon battle cruiser stamps.
A bilingual Boldly Go Star Trek 50th Anniversary stamps and collectibles catalog was published by Canada Post. The catalog lists all the items issued.
Reactions
Edit
In an interview with The Georgia Straight, William Shatner expressed his honor at being on one of the stamps:
"Confessing that he was floored by the honour, he says, 'I've just recently picked myself back up. Isn't it something?'

'I was collecting stamps when I was a kid—back with the founding fathers and Prime Minister Macdonald—but the possibility of collecting me never occurred to me.' He pauses, then laughs. 'I'm going to use that line again!'" [10]
External links
Edit
Ad blocker interference detected!
Wikia is a free-to-use site that makes money from advertising. We have a modified experience for viewers using ad blockers

Wikia is not accessible if you've made further modifications. Remove the custom ad blocker rule(s) and the page will load as expected.