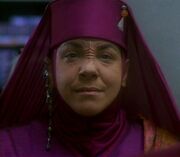 Camille Saviola (born 16 July 1950; age 65) is the actress who portrayed Kai Opaka in four episodes of Star Trek: Deep Space Nine.
Saviola was born in New York.
She most recently had a recurring role on the television series Judging Amy. Her feature film credits include Betsy's Wedding with Bibi Besch (Carol Marcus in Star Trek II: The Wrath of Khan), Shadows and Fog with Wallace Shawn (Zek on DS9), and Addams Family Values with Christopher Lloyd (Kruge in Star Trek III: The Search for Spock) and Carel Struycken (Mr. Homn on TNG).
Appearances
External links