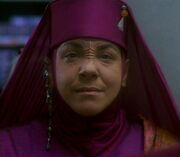 Camille Saviola (born 16 July 1950; age 67) is the actress who portrayed Kai Opaka in four episodes of Star Trek: Deep Space Nine. Saviola was born in New York. She also appeared as a Prophet as Opaka.
Saviola most recently had a recurring role on the television series Entourage as Turtle's mother. Her feature film credits include Betsy's Wedding (with Bibi Besch), Broadway Danny Rose, The Purple Rose of Cairo, Shadows and Fog (with Wallace Shawn), Addams Family Values (with Christopher Lloyd and Carel Struycken) and Penn & Teller Get Killed.
Appearances
Edit
External links
Edit
Ad blocker interference detected!
Wikia is a free-to-use site that makes money from advertising. We have a modified experience for viewers using ad blockers

Wikia is not accessible if you've made further modifications. Remove the custom ad blocker rule(s) and the page will load as expected.