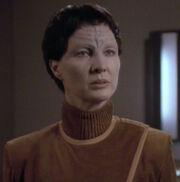 Callan White (born 21 August 1953; age 63) is the actress who played Krite, a member of the J'naii, in the Star Trek: The Next Generation fifth season episode "The Outcast" in 1992. She filmed her scenes between Monday 6 January 1992 and Wednesday 8 January 1992 and on Monday 13 January 1992 on Paramount Stage 8, 9, and 16. Two of her costumes from this episode were sold off on the It's A Wrap! sale and auction on eBay. [1] [2]
White appeared in an episode of L.A. Law with Corbin Bernsen, Ronny Cox, and Dion Anderson. She also starred with Richard Riehle in the 2002 Christian film Time Changer.
External links
Edit
Ad blocker interference detected!
Wikia is a free-to-use site that makes money from advertising. We have a modified experience for viewers using ad blockers

Wikia is not accessible if you've made further modifications. Remove the custom ad blocker rule(s) and the page will load as expected.