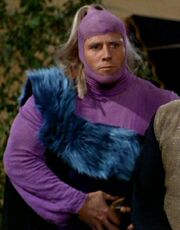 Cal Bolder (14 June 1931 – 19 January 2005; age 73) was born Earl Craver and was an American actor and author. He played the role of Keel in the Original Series episode "Friday's Child".
Bolder spent fourteen years with the Los Angeles Police Department before leaving to pursue a career in acting. That led to four movies and twenty or so television roles before he retired from acting at the end of the 1960s. His movie roles included the part of "Igor" in the memorably bad film, Jesse James Meets The Daughter of Frankenstein. He self-published the novel Last Reunion under his birth name, E.C. Craver.
External link
Edit
Ad blocker interference detected!
Wikia is a free-to-use site that makes money from advertising. We have a modified experience for viewers using ad blockers

Wikia is not accessible if you've made further modifications. Remove the custom ad blocker rule(s) and the page will load as expected.