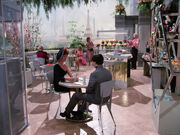 The Café des Artistes was a small restaurant in Paris, France on Earth, which offers an excellent view on the 500-year-old Eiffel Tower. It was located near the office of the President of the United Federation of Planets.
In 2342, Jean-Luc Picard had a rendezvous with Jenice Manheim at the Café des Artistes. However, Picard posted Jenice who later married Paul Manheim. In order to prepare himself for meeting Jenice again, Picard visited a holographic simulation of this café in 2364. (TNG: "We'll Always Have Paris")
The simulation was also available aboard the USS Enterprise-E in 2373. (Star Trek: First Contact)
People
See also
Appendices
Background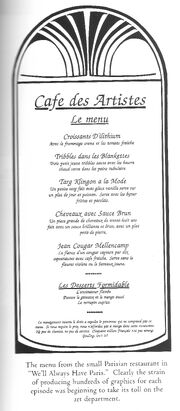 The menu used as a prop in the Café des Artistes is another example of the art department having fun. It was reproduced in Star Trek: The Next Generation - The Continuing Mission on page 67.
The menu for that day (in appallingly-spelled French) was:
External link