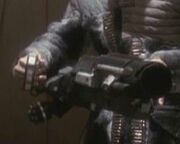 The CRM 114 was a hand-held directed energy weapon manufactured by the Breen that was effective against both moving vehicles and surface emplacements. It was guaranteed to penetrate reactive armor in the six to fifteen centimeter range and force fields up to 4.6 gigajoules. One of the weapon's most popular features was the quick recharge. Such weapons were expensive, but extremely popular.
Quark sold two thousand CRM 114s when he began working for weapons dealers Hagath and Gaila in 2373. (DS9: "Business as Usual")
External link
Edit
Ad blocker interference detected!
Wikia is a free-to-use site that makes money from advertising. We have a modified experience for viewers using ad blockers

Wikia is not accessible if you've made further modifications. Remove the custom ad blocker rule(s) and the page will load as expected.