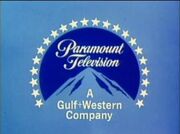 CBS Television Studios (formerly Paramount Television, CBS Paramount Television and its production arm CBS Paramount Network Television) is a television broadcasting company owned by the CBS Corporation (formerly Viacom) that currently holds the production rights of any future Star Trek television series. It is producing Star Trek: Discovery set to be released on CBS All Access in January 2017. [1]
This company was formed as the result of a 2005 split between the Columbia Broadcasting System (CBS) and Viacom, the latter of which owned Paramount Television. It is a division of CBS Studios, which owns the trademarks for Star Trek and all related marks.
Re-incorporated from Desilu in 1967, Paramount Television laid claim to every episode of Star Trek: The Original Series and its subsequent spin-offs for nearly forty years before CBS Corporation acquired Paramount Television and merged it with CBS Productions. Paramount Television has never been a separate company within the holding group, but a dependent division of Paramount Pictures until 2006. In 2006, the former Viacom was split into two separate companies: CBS Corporation and a new Viacom and on 17 January 2006, Paramount Television was officially renamed CBS Paramount Television. In 2009, CBS Paramount Television and its Network Television unit changed its name to CBS Television Studios.
CBS Television Studios consists of its domestic distribution arm, CBS Television Distribution, and its global distribution arm, CBS Studios International.
See also
Edit
External links
Edit
Ad blocker interference detected!
Wikia is a free-to-use site that makes money from advertising. We have a modified experience for viewers using ad blockers

Wikia is not accessible if you've made further modifications. Remove the custom ad blocker rule(s) and the page will load as expected.