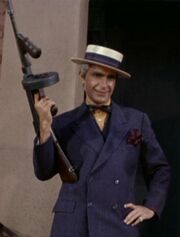 Buddy Garion (died 27 June 2013) was the actor who played Karf in "A Piece of the Action", a second season episode of Star Trek: The Original Series.
Garion's other television credits include appearances on Dr. Kildare, Burke's Law, Matlock (in an episode with Michael Durrell), and The A-Team, the latter of which co-starred Lance LeGault, William Lucking, Charles Napier, and Dwight Schultz. He was also seen in the 1974 TV movie The Death Squad, along with Julie Cobb, George Murdock, Bert Remsen, and Kenneth Tobey.
In addition, he had roles in the feature film Ice Station Zebra (1968, co-starring Joseph Bernard, Lloyd Haynes, Jonathan Lippe, William O'Connell), Marlowe (1969, with Kenneth Tobey and Jason Wingreen), and The Big Picture (1989, with Stephen Collins, Teri Hatcher, Stan Ivar, and Michael McKean).
His last known screen appearance was an episode of That's Life in 2000. Paul Sorvino starred in this series, while Frank Kopyc was a guest star in the same episode.
Garion passed away, after battling lung cancer, on 27 June 2013. [1]
External link