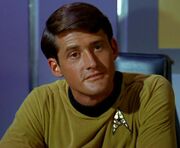 Bruce Hyde (born 14 September 1941; age 74) is the actor who played Lieutenant Kevin T. Riley in the original series episodes "The Naked Time" and "The Conscience of the King".
He also had a recurring role during the fifth and final season of the TV series Dr. Kildare in early 1966. Overall, Hyde's on-screen acting career was quite brief, encompassing a grand total of nine TV guest appearances from November, 1965 to December, 1966. Following a role in the musical Hair in San Francisco, Hyde decided to remain in the city, and step away from his acting career. He noted, "I played a hippie - and I decided I wanted to be a hippie instead of playing one. I was going to get a Volkswagen bus and a big bag of brown rice and go find God. And that's what I did." (Star Trek Magazine issue 117)
Hyde eventually earned a PhD in Rhetoric/Communications Studies at the University of Southern California, and became chair of the Theater, Film Studies and Dance department at St. Cloud State University. He has also worked with the charity Landmark Education.
External link