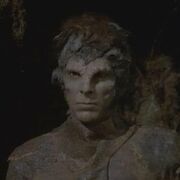 Bruce Bohne is the actor who played the role of Ishan in the Star Trek: Voyager episode "Blood Fever".
Primarily a film actor, Bohne made his screen acting debut in the acclaimed 1996 drama Fargo, co-starring fellow Voyager guest actors John Carroll Lynch and Harve Presnell. Bohne also co-starred with Presnell in 1997's Julian Po, starring Christian Slater. His other film credits include Jingle All the Way (1996, with Daniel Riordan), Overnight Delivery (1998, with Larry Drake, Sarah Silverman, and Stephen Yoakam), Patch Adams (1998, with Bob Gunton and Randy Oglesby), the 2004 remake of Dawn of the Dead (with Matt Frewer), Factotum (2005, with Tony Papenfuss and Raye Birk), and Dead of Winter (2007, with Cyia Batten).
For television, Bohne co-starred with Bruce Davison, Anne Haney, and Clayton Rohner in the 1998 movie Little Girl Fly Away and with Teri Hatcher, Bob Gunton, Bruce McGill, and Matt Malloy for 2000's Running Mates. He has also guest starred in television series such as The Pretender (1996, with Tony Plana), Pensacola: Wings of Gold (1998, with Kimble Jemison and Ken Jenkins), Law & Order: Special Victims Unit (2000), and Jericho (2006, with Alicia Coppola, Leon Russom, and Thom Williams).
External links
Edit
Ad blocker interference detected!
Wikia is a free-to-use site that makes money from advertising. We have a modified experience for viewers using ad blockers

Wikia is not accessible if you've made further modifications. Remove the custom ad blocker rule(s) and the page will load as expected.