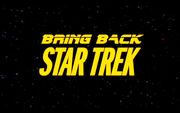 Bring Back... Star Trek was a 75-minute documentary and was part of the British Channel 4's Bring Back television series. It aired in 2009.
The comedian Justin Lee Collins hosted the film which attempted to reunite the surviving cast of Star Trek: The Original Series for a one-off performance and cast reunion.
Collins' team engaged in "ambush interviews" and meetings set up under false pretenses to garner many of the interviews for the film. He was able to interview George Takei, Grace Lee Whitney, Nichelle Nichols, Walter Koenig, Eddie Paskey, Bobby Clark, and Leonard Nimoy during their ten day filming window.
Collins had hoped to entice William Shatner to reprise his role of Captain James T. Kirk fighting the Gorn commander from the classic "Arena" episode but could not make contact with the actor. Collins' attempts to break into Shatner's mansion grounds to meet him were rebuffed when Shatner apparently released his guard dogs which created an impression reminiscent of Monty Burns from The Simpsons. Collins also surreptitiously gained access to Boston Public's filming location but was unable to find Shatner on set.
None of the Star Trek cast attended the reunion but Takei, Nichols, and Koenig did film brief cameos for a "USS Collins" bridge scene. Bobby Clark reprised his role as a Gorn while Collins played James T. Kirk in a recreation of the hand-to-hand fight scenes from Arena.