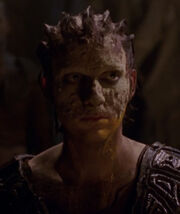 Brian Jacobs is an actor who appeared as Athan in the Star Trek: Enterprise episode "Terra Nova".
Jacobs performed on such television series as 3rd Rock from the Sun, Sunset Beach and Will and Grace. Additionally, he can been seen in the film Ghost World (2001, with Pat Healy, Diane Salinger and Teri Garr).
External link
Edit
Ad blocker interference detected!
Wikia is a free-to-use site that makes money from advertising. We have a modified experience for viewers using ad blockers

Wikia is not accessible if you've made further modifications. Remove the custom ad blocker rule(s) and the page will load as expected.