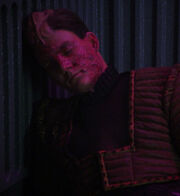 Brian Goldman is one of the four actors who portrayed the Talarian cadets in the Star Trek: The Next Generation fourth season episode "Suddenly Human" in 1990. His name is from one of the episode's call sheets, dated on 26 July 1990. His costume was later sold on the web. [1]
Ad blocker interference detected!
Wikia is a free-to-use site that makes money from advertising. We have a modified experience for viewers using ad blockers

Wikia is not accessible if you've made further modifications. Remove the custom ad blocker rule(s) and the page will load as expected.