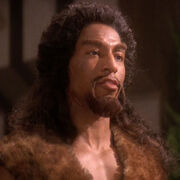 Brian Evaret Chandler is the actor who played the role of Brota in the Star Trek: Deep Space Nine episode "Children of Time".
Chandler has also performed parts in the 2004 drama Brother to Brother and the Phil of the Future episode "The Giggle" (2005, with Lise Simms and Joel Brooks).
External link
Edit
Ad blocker interference detected!
Wikia is a free-to-use site that makes money from advertising. We have a modified experience for viewers using ad blockers

Wikia is not accessible if you've made further modifications. Remove the custom ad blocker rule(s) and the page will load as expected.