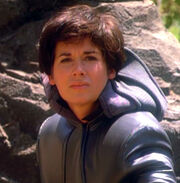 Brenda-Jean Shephard (also known as Brenda Jean and B.J. Shephard) is an actress who played Karyn Berlin in the Star Trek: Voyager episode "The 37's". Shephard also worked as regular stand-in for actress Nana Visitor in Star Trek: Deep Space Nine seasons 5 and 6, from July 1996 until October 1997, and appeared occasionally as the nurse in Dr. Bashir's surgery. She left the series upon the birth of her daughter, Danielle Shephard, in 1997. Shephard received no credit for her Trek work.
External links
Edit
Ad blocker interference detected!
Wikia is a free-to-use site that makes money from advertising. We have a modified experience for viewers using ad blockers

Wikia is not accessible if you've made further modifications. Remove the custom ad blocker rule(s) and the page will load as expected.