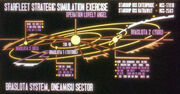 The Braslota system was a star system in the Oneamisu sector. The primary was named Braslota. The three planets in this system were named, in order from the primary, Totoro, Yuri, and Kei.
In 2365, this system was selected by Starfleet Command for a strategic simulation exercise codenamed Operation Lovely Angel. This war game exercise pitted the USS Enterprise-D against the USS Hathaway. (TNG: "Peak Performance")
According to the script, the pronunciation for Braslota was "brass-LOW-tah". [1]