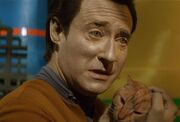 Brandy is an orange tabby cat who portrayed Spot on Star Trek: The Next Generation beginning with the sixth season. While Brandy was the "more smooth" cat, Monster, Bud, and Tyler are the other cats who played Spot. Brandy can also be seen in the end scenes of Star Trek Generations when Data finds her in the wreckage.
Brandy was trained by Rob Bloch and Karen Thomas-Kolakowski of Critters of the Cinema.
Appearances
Edit
Ad blocker interference detected!
Wikia is a free-to-use site that makes money from advertising. We have a modified experience for viewers using ad blockers

Wikia is not accessible if you've made further modifications. Remove the custom ad blocker rule(s) and the page will load as expected.