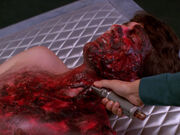 Bardley Weinholtz is the actor who portrayed Joshua Kelly in the Star Trek: The Next Generation sixth season episode "Realm of Fear" in 1992. He received no credit for this appearance.
Weinholtz graduated from the Santa Monica College in 1982 and became a SAG and AFTRA member in the 1980s. Beside his work on Star Trek he also appeared in the comedy series In Living Color. In 1985 he graduated with a BS in Marketing from the California State University Northridge.
Weinholtz worked as manager or was the owner of several companies throughout the last 25 years. More recently until May 2012 he worked as director of marketing and sales for the company Bridgecraft USA in La Mirada, California. Since May 2012 he is the manager in a guitar center in Westlake Village, California.
External link
Edit
Ad blocker interference detected!
Wikia is a free-to-use site that makes money from advertising. We have a modified experience for viewers using ad blockers

Wikia is not accessible if you've made further modifications. Remove the custom ad blocker rule(s) and the page will load as expected.