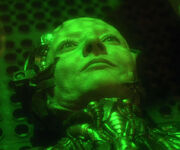 Bonita Friedericy (born 10 October 1961; age 54) is an actress who portrayed the scientist Rooney and later a Borg drone in the Enterprise episode "Regeneration".
She is married to John Billingsley, who plays Dr. Phlox in Star Trek: Enterprise. He had been trying to get her a role on Enterprise for a while, specifically to play one of his character's many wives. When she did guest star in "Regeneration", he made it a point to tell people that her name is pronounced "so that it rhymes with Fried and Greasy".
After Enterprise, she worked with her husband again, playing wife to his character on the ABC series The Nine, appearing with fellow Enterprise guest actors Conor O'Farrell, Jamie McShane, Zach Grenier.
Friedericy has also made guest appearances on Monk (with Clyde Kusatsu and Aaron Lustig), CSI (with Wallace Langham and Liz Vassey), Without a Trace (with Enrique Murciano and Mark A. Sheppard), Criminal Minds (with Tony Todd), Alias (with Terry O'Quinn, Greg Grunberg, and produced by J.J. Abrams), Becker (with Terry Farrell), Spin City (with Alan Ruck), Family Law (with Christopher McDonald, Julie Warner, Salli Elise Richardson, and K Callan), The Practice (with Tucker Smallwood), Buffy the Vampire Slayer (with Harry Groener), The Drew Carey Show (with Diedrich Bader and Nan Martin), Strong Medicine (with Robert Foxworth), Dharma and Greg (with Mitchell Ryan), The West Wing (with Stephen Root, David Clennon, Van Epperson, and Wallace Langham), 7th Heaven (with Stephen Collins, Catherine Hicks) and Scrubs (with Ken Jenkins).
More recently, she has appeared in the regular role of General Beckman on the NBC series Chuck, produced by Robert Duncan McNeill. She worked again with Tony Todd on the series until his character was killed off. Her Enterprise co-star Scott Bakula appeared in several episodes as the title character's father. John Fleck, John Larroquette, Clyde Kusatsu, Faran Tahir, Patrick Kilpatrick, Robert Picardo, and Christopher Lloyd have also made appearances on the show.
In an interview, she compared the role of General Beckman to Vaughn Armstrong's role as Admiral Maxwell Forrest on Enterprise, appearing mostly on a viewscreen to send the main characters on various assignments. [1]
External links