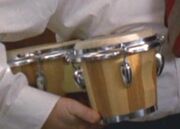 Bongos (or bongo drums) were an Earth percussion instrument consisting of two small drums that were played by hand.
Albert Macklin used to play the bongos, sometimes even at work in the office of Incredible Tales. (DS9: "Far Beyond the Stars")
External link
Edit
Ad blocker interference detected!
Wikia is a free-to-use site that makes money from advertising. We have a modified experience for viewers using ad blockers

Wikia is not accessible if you've made further modifications. Remove the custom ad blocker rule(s) and the page will load as expected.