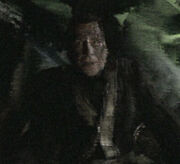 Bob Rudd is the actor who portrayed Brell in the Star Trek: Voyager episode "Nightingale". His jacket was sold off on the It's A Wrap! sale and auction on eBay and previously worn by a background actor in the Voyager episode "Alliances". It was later re-used and worn by Eric Norris in the Star Trek: Enterprise episode "Damage". [1]
Rudd has appeared in several other productions. In 1993 he appeared in the movies Married People, Single Sex (starring Chase Masterson and also featuring Robert Zachar) and the horror film Project Vampire, with Kim Koscki. In 2000, Rudd appeared in the television movie Guilty as Charged (alongside Randy Mulkey).
External links
Edit
Ad blocker interference detected!
Wikia is a free-to-use site that makes money from advertising. We have a modified experience for viewers using ad blockers

Wikia is not accessible if you've made further modifications. Remove the custom ad blocker rule(s) and the page will load as expected.